Entry Deadline - Sunday 9th May
The Mixed Doubles Ladder has now officially launched, with the deadline for entries being Sunday 9th May. This promises to be a thoroughly enjoyable competition, so we hope to see lots of our members signing up.
Before you can enter, however, you will need an LTA Advantage Play+ account, as well as a playing partner who is also an LLTSC member:
(free for LLTSC members)
If you don't already have an LTA account, visit www.lta.org.uk and look for the 'Join' button in the top right hand corner of the home page. You will then be taken to a page with a carousel of different membership types. The one you are looking for is Advantage Play+, which is free to join for members of LTA registered venues.
Once you've joined, click here and you will be taken to the Mixed Doubles Ladder competition page.
Both you and your partner will need to enter yourselves individually, however, you will need to know each other's LTA number to allow the system to match you.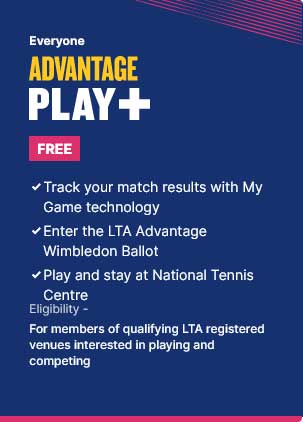 Finding a suitable partner
You may already have a regular mixed doubles partner, but if not, don't despair as you won't be alone and there are several options available to you:  
You might want to ask a fellow member you've already played in the singles ladders or at Club Night. 
Or, maybe there is someone in your coaching session who would make a suitable partner.
And not forgetting the general Tennis or Club Night WhatsApp groups, which could prove a great source for finding other tennis members in the same boat as you.
Two sets to 4, with sudden death deuce
(serving to the same gender)
Tiebreak to 7 points at 3 games all
Tiebreak to 10 points at 1 set all
4 or 5 pairs in a box
2 months to play all matches